---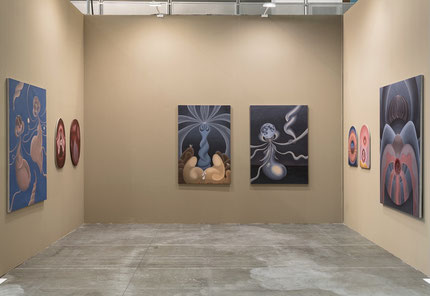 For this year's edition of ARTISSIMA Galerie Sophia Vonier and artist Marianne Vlaschits curated a booth with recent works creating a space with the impression of an astrophysical cabinet. The presentation includes only paintings in oil on canvas - some on irregularly shaped canvases that were executed by the artist herself.
Austrian curator Andrea Kopranovic writes about the new series that Vlaschits started while preparing for the exhibition AURORAS that took place at the gallery in Salzburg:
"Marianne Vlaschits treads a new path within her ongoing fascination with astrophysical phenomena. Her recent works are based on illustrations of magnetic fields, especially those of black holes. Taking a painterly approach to the force effects of magnetism, she introduces oscillating bands of rays as the common thread of her pictorial narrative. Different celestial bodies, such as brightly shining stars, representations of the moon, or sometimes even female heads, stand in the center of each of the ray bands. They bundle and multiply the reciprocal forces of the magnetic fields of their singularities. Thus, in the works cosmic landscapes fully blend with the depicted bodies and objects. In the sense of a metaphor by the US-American physicist Sean Michael Carroll, it is a blending that, like milk in coffee, initially creates fractal turbulence: cloud-like formations emerge, a powerful intermediate stage before the actual unification. In Marianne Vlaschits' work, a similarly fertile moment develops from the black holes themselves. These function like a kind of primordial fire that creates and destroys galaxies. The magnetically charged energy currents of their processes cause hot gas clouds to flow cyclically through the galaxy, regulating star formation, at the end of which is the creation of life. In kinship with Aurora, goddess of the dawn, Marianne Vlaschits elevates the black hole to goddess of fertility and death in these works."
The viewer becomes an explorer of these states of awareness. They stand in front of a walls with portals and can decide which of them she would like to travel through or which dimension they choose to find themselves in. Artissima's actual theme "Counterpart" resonates on different levels with Vlaschits' work: the female body is put in opposition to celestial objects and the fluctuations of consciousness exist in the immediate vicinity to the hard reality of cosmic entropy.
Venue.
OVAL Lingotto Fiere
via Giacomo Mattè Trucco, 70
Torino, Italia