---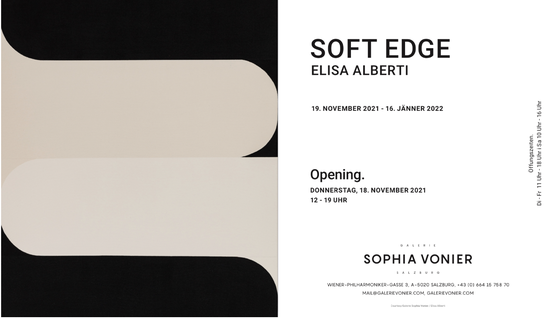 SOFT EDGE
Seen from the edge, Elisa Alberti's works are self-contained systems that do not compete with the surrounding space. Consistently Elisa Alberti (*1992, Kiel) gives the large canvases frames of wood and pulls the painting of the smaller works up to the thick stretcher. It is precisely at this point that a painting becomes an object. That from composed surfaces a whole develops and the painting receives a three-dimensional body. Bodies, figures, objects, plants - these impressions of everyday life are a basis for the graphic exploration of the graduate of the Academy of Fine Arts in Vienna. It is obvious technically, but also in terms of content, that the artist, who grew up in South Tyrol and lives in Vienna, does not work untouched by academic art discourse, but Alberti has emancipated herself from art history. In the 1960s, the term "hard-edge painting" emerged. Areas of color with sharp, hard edges characterized this subtendency of abstract painting. Alberti's work may have distant affinities with this art historical episode, but even though Alberti knows about sharp edges and uses them purposefully now and then, her color surface painting has little to do with hardness. On the contrary, she knows how to capture fragile sensitivity in clear form. Forms, however, that are never soberly delimited by their changeable shape, but - look at the surfaces, for example, which sometimes appear smoothly shiny and then again deep and matte - always remain lively. Their quality lies in the organic. The catchword is, the artist herself calls it: balance.
"An element plus an element must, apart from their sum, result in at least one interesting relationship,"(1) Josef Albers stated. Alberti translates the mesh of relationships and references into the 21st century. She succeeds in this by acting in a holistically entangled way. Painting dissolves in the object and vice versa, surfaces act as equals between foreground and background, distance, but also proximity and color are accomplices of balance. Intuition determines not only the form, but also the achromatic color world in which Elisa Alberti declines the spectrum between skin tones, sky colors and the strong dominance of black and white. The figuration is only a set piece and the elements become increasingly independent in the growing catalog of forms, which constantly develops out of itself. Construction and deconstruction play an essential role. In the most recent works, a variant of the sgraffito technique is used. With delicate yet very determined and powerfully placed strokes, she scratches a superficial layer of paint from the picture support to expose lines. Cracked contours, which on the one hand appear soft and fragile and on the other hand mark clear boundaries between the picture surfaces. Soft edges, which in their strokes are also reminiscent of the colorless pencil sketches that form the basis of every series by Elisa Alberti. 
Paula Watzl, November 2021
(1) Dirk Rustemeyer, Ordnungen des Wirklichen: Ways of Distinguishing in Philosophy, the Arts, and the Sciences, Verlag Herder GmbH, 2018, p. 64.