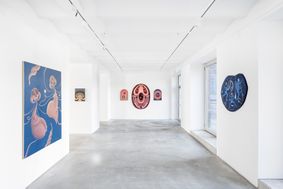 PHASE TRANSITIONS                                              2018 - 2021
February 11 - April 7, 2022
 In cooperation with Galerie Sophia Vonier, Bildrecht presents the first comprehensive presentation of paintings in oil on canvas by Marianne Vlaschits from 2018 - 2021, curated by Andrea Kopranovic, at Bildraum Studio.
Marianne Vlaschits deals in her surreal paintings with the cosmos and the human body as an immanent part of it. The artist uses her knowledge of astrophysics to create a visual language that is sometimes related to the aesthetics of science fiction, but more often cites recent painting history.
OPENING.
February 10, 2022 | 7 pm
ARTIST TALK.
March 5, 2022 | 3 pm
VENUE.
Bildraum Studio | Brotfabrik Wien
Absberggasse 27, Stiege 9
1100 Vienna